hello Braunists

I am new at this forum. I hope, you can help me, I have big problem.
Well, I bought a BRAUN PCS52 1 month ago and already start to renovate it.First of all, the belt was missing and my first mission is to find belt and did it. It works well after install the belt. I am not sure about the RPMs are correct (not measured yet) but seems ok.
Anyway, I thought that my second mission must be the oiling the motor,idler wheel's bearing and platters bearing.
Now, here is my problems that I need your help :
1) I thought that, the motor's lubricant already dry or lost the quality after 45 years at least. And also motor works noisy. So I pulled it out from the place, first I put spray cleaner then I put few drops of Singer oil than 10/40 motor oil.
It works well but still there is a noise while it is working and even when I re-install it to its place, noise is increasing.
I couldn't open the motor, that's why I just oil it from out side.
Do you have suggestions to oil it ? Do I need to open the motor totally and oil the motor bearing? Is it worth ?
last week, I open the whole motor, at the back side of the motor, where is motor's main shaft and ball-bearing, I found that something in dark brown color dust. It looks like coffee pulp. Probably there were a gasket or liquid seal gasket before and with the time, it is almost dead. I am not really sure, does anyone knows what is there before ?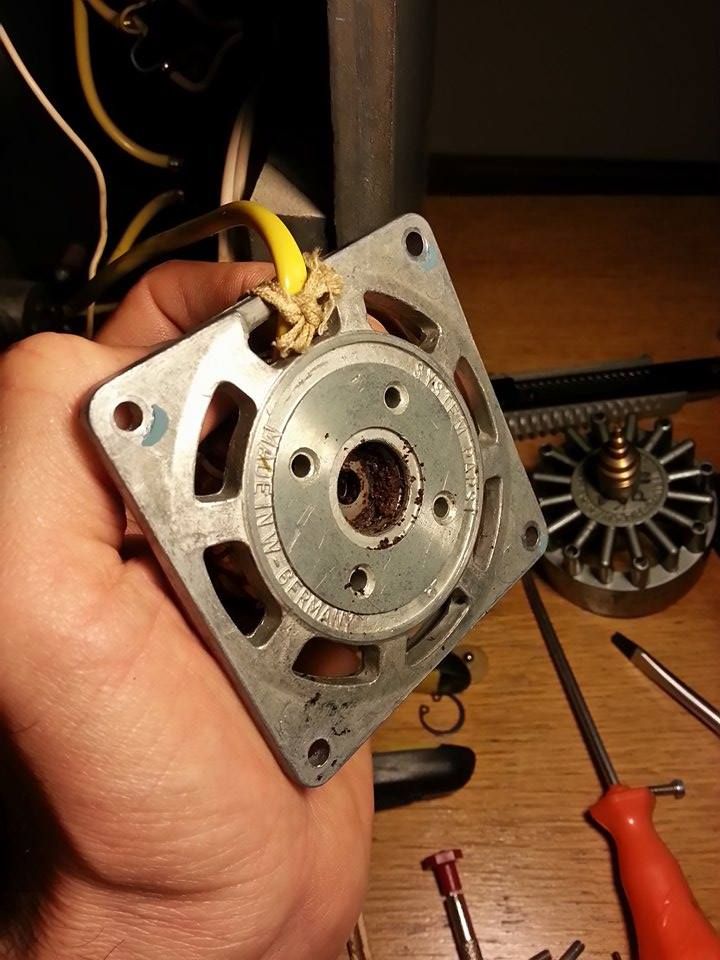 This is the most important problem for me right now, I will be really very happy if you can help me.
2) Idler wheel's rubber side is not straight, it is swinging when it is working. I checked internet but not possible to find replacement, do you have any suggestions to straight it ?
3) As you can see from the photo at below, the motor pulley,idler wheel and belt's pulley's chassis staying not straight, it is leaning to right side a bit. Is it normaly ? I found that this chassis have 4 legs and there is 4 springs and specially 2 right side springs are down then the left sides that's why it is leaning righty. Does it means that these springs loose their properties and have to replace with the new ones ?